Question
How to turn back the There are documents with errors in the selection. Do you want to skip them? dialog box, if the Show this dialog next time option was unchecked?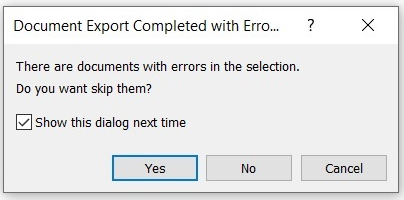 Answer
Navigate to the registry editor (regedit).
Navigate to the path:
Computer\HKEY_CURRENT_USER\SOFTWARE\ABBYY\FlexiCapture\12.0\Shell\Dialogs
Change the ShowErroneousDocumentExportDialog key to true:


Confirm changes and restart the machine.