Question
How to update FineReader PDF?
Answer
Standalone installation (update on a single PC)
All recent products have a built-in update system. To update the product, please follow the steps below:
Start the program.
Go to the Help menu > select Check for Updates: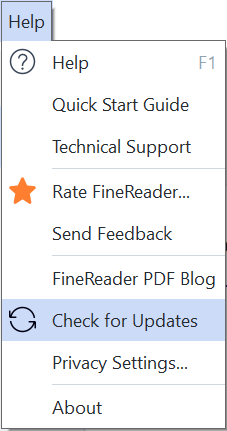 Network installation
To update FineReader PDF on workstations (installing updates "over" the installed version), follow the steps below:
Download and extract the files from the distribution kit of the corresponding FineReader PDF version (FineReader download links) to the folder, which can be reached from the workstation.
Install FineReader PDF update on workstations using the latest distribution kit (step 1). One of the supported installation methods (interactive installation, command line installation, using Active Directory or SCCM) can be used. Updating the administrative installation point is not required.
The administrative installation point should be updated only if the program is going to be installed on new workstations from this installation point. In this case, a new administrative installation point should be created using the latest distribution kit. An update of the already installed copies of FineReader PDF can be done "over" the existing installations.
Uninstalling the previous version of FineReader PDF is not required for installing an update.
Additional information
Information about the installation methods can be found in the System Administrator's Guide.