Question
How to collect installation logs for FineReader Server 14?
Answer
If the installation of FineReader Server 14 has been failed, starting from the Release 1 Update 9 (build 14.0.1.76) you can save installation logs from the installation dialogue by clicking onto Save installation logs...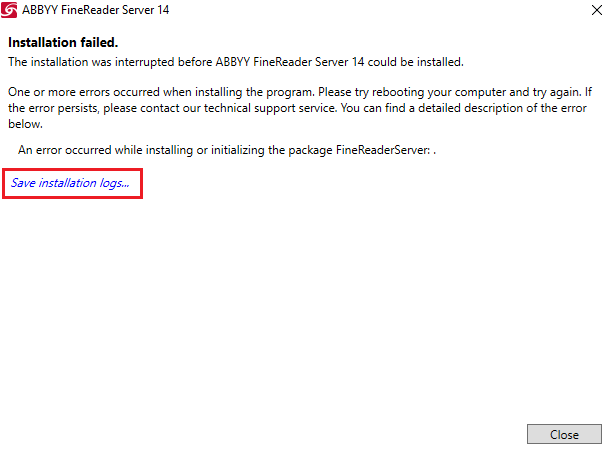 Logs are saved in form of a *.zip archive and contain *.txt log files. Error messages in the *.txt files can be analyzed to solve the issue.
If the dialog above does not appear, then you can find FineReader Server installation logs in the following folders:
%temp%

%ProgramData%\ABBYY FineReader Server 14.0\Logs (will be copied here from %temp% after some time)
Note: If in the logs you see the following error message:
Abbyy.FineReader.Server.Setup.UI.Model: *** ERROR: An error occurred while installing or initializing the program: No action was taken as a system reboot is required.
you would need to reboot the system and launch the installation again.
If you are facing difficulties analysing error messages, make sure to attach the installation logs to the support ticket.