When trying to install the ABBYY FineReader %edition% program, the following error message appears:
"There is a problem with this Windows Installer package. A program run as part of the setup did not finish as expected. Contact your support personnel or package vendor."
Please, try to restore all system files within the command prompt as described below:
1. Press the Windows + S key shortcut and type cmd in the search field;
2. Right-click the Command Prompt icon and select Run as Administrator;
3. At the Command Prompt, type sfc /scannow and press the Enter button;
4. Please, do not close the command window until the test is completed 100%. The results of the check will be displayed after the completion of the process;
5. Try to start the installation of the program one more time.

If the issue is still actual, please try to do the following:

1. Go to Control Panel > Clock, Language and Region > Region​ (or run control intl.cpl command).
2. Select the Administrative tab.
3. Click Change system locale...
4. Uncheck Use Unicode UTF-8 for worldwide language support option.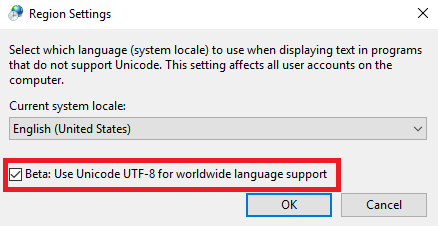 5. Click OK.
6. Restart Windows.
7. Try to install the program.
Related articles
Use the System File Checker tool to repair missing or corrupted system files
If the issue is still actual, after the steps above, please contact the Support Team.