If you are designing an application which will allow the user to recognize business cards with a mobile phone, you need to pay some attention to ensuring that they will make good quality photos of business cards.
User interface
We recommend that you add to user interface a frame showing business card's position on the screen when the user is taking a picture. It can look like this: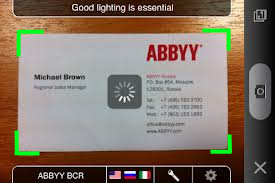 Before sending a recognition request to Cloud OCR server, your application should crop the image using the frame borders.
Recommendations to the user
You also need to add some tips on photographing business cards and display them so that they catch the user's attention before she/he takes a picture. Here is a list of our tips:
A business card must fit entirely within the frame on the screen while taking a picture.
The distance between your camera and the business card should be about 30 cm (12 inches).
Ensure that lighting is bright and even.
To prevent overexposure, avoid using the flash (daylight is preferable).
If possible, put the business card on black or white background.
The text on the resulting photo should not be skewed by more than 20 degrees.
Enable your camera's anti-shake feature, if available.
It is best to photograph one business card at a time.