Symptoms
FineReader PDF 15 license is installed locally on two computers and is not in use simultaneously on both devices, but the error message still occurs:
ABBYY FineReader PDF 15 will be terminated. The license <license number> is already in use by the user <username> on the workstation <workstation name>. Please contact your system administrator for assistance.
Cause
FineReader components that are running at startup by default: Hot Folder or Screenshot Reader (displayed in the System Tray) may be causing the issue.
Resolution
Disable FineReader PDF 15 components, such as bonus Screenshot Reader or HotFolder from running at startup:
1. Close FineReader 15 and all its components;
2. Click the System Tray button:

3. Right-click the ABBYY component (Screenshot Reader or HotFolder);
4. Click Options;
5. Untick Run at Startup;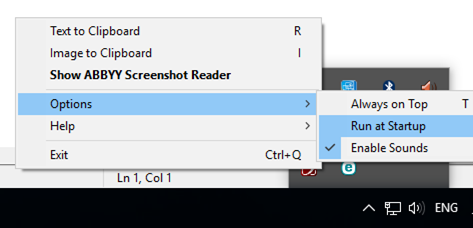 6. Click Exit;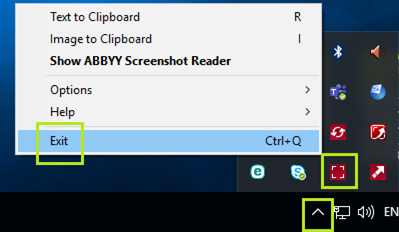 7. Restart your computer.
Additional information
For the network installation issue please consult the following article.