Symptoms
Cannot send batch that has several hundred pages to the server, caused by the limit for request length in IIS
Related errors:
- request entity too large
- Cannot connect to 'http://<server_name>' (error code: (HTTP 413, 19, 0))
Cause
HTTP 413 error is a limitation of the request length in IIS.
Resolution
The problem could be solved by increasing the parameter "Maximum allowed content length" (maxAllowedContentLength, requestLimits)
This parameter can be changed in two ways:
1) Open Internet Information Services Manager
Navigate to Server settings and go to Request Filtering->Edit Feature Settings.
Increase the limit up to 990 MB (990000000), or other according to your needs.
After making changes - need to restart IIS Server
Select Server and press on the Restart button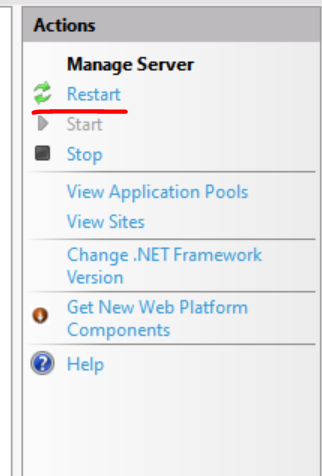 2) Second way is to navigate to C:\inetpub\wwwroot\FlexiCapture12\Server, open web.config and under system.webServer, add the following part:
<system.webServer>
  <security>
    <requestFiltering>
      <requestLimits maxAllowedContentLength="90000000" />
    </requestFiltering>
  </security>
</system.webServer>
After that restart the IIS Server to apply changes.