Symptoms
When trying to activate FineReader PDF on the computer, the following error message appears:
The serial number is already in use.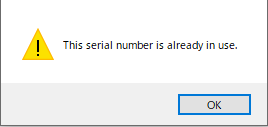 Cause
The error message appears since the program is already activated with the license entered.
Resolution
To check that FineReader PDF is already activated and work in full mode, follow the steps below:
Launch the FineReader PDF program.
Go to Help > About > License Info.

Check that the license is shown in the appeared window. The expiration date of the license will be displayed.





There is no need to activate the same license again if it is displayed in the License window.  
Additional information
The resolution for the subscription type of license is described in this article: "The serial number is already in use" message appears when reactivating the subscription license