Symptoms
After updating to 12.0.3.4164 the following errors occurred in FlexiLayout Studio:
ERR_FFS_FLEX_DESCR_LANGUAGE_NOT_FOUND RussianWithAccent
ERR_FFS_FLEX_DESCR_LANGUAGE_NOT_FOUND Mixed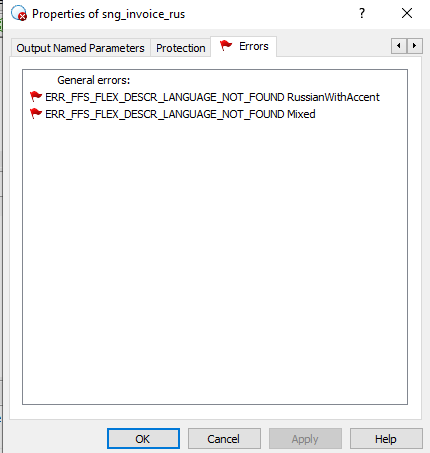 Cause
The list of available languages has been changed. Some languages are no longer available.
Resolution
In FlexiLayout Studio project, go to FlexiLayout > Properties > General tab.

Change/remove any languages from the Pre-recognition settings.




Click Apply, Ok to close the window and save the project (Ctrl+S or via diskette button in the main menu)​.

Close FlexiLayout Studio and open the project anew.
To resolve the issue with the corresponding Document Definition in FlexiCapture - update its FlexiLayout with the updated one.