Question
How to setup MS Graph API import profile?
The instructions for MS Graph API profile setup in Online Help are pretty lite, are you able to provide us with anything more robust?
What permissions to mailbox should be granted for MS Graph API import profile?
Answer
1) Select "Hot Folder" option and choose "Microsoft Graph Mail API" from drop-down list.
​

​
2) Click "Sign In", follow the link as prompted by setup wizard and choose the Microsoft account:

​


3) You will be prompted to give access to FlexiCapture 12 Graph Mail Import application: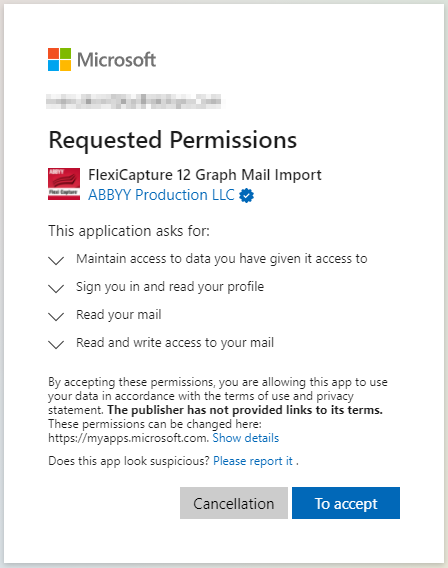 ​
Following permissions are requested by application:
Maintain access to data you have given it access to
Sign you in and read your profile
Read your mail
Read and write access to your mail
4) Grant the access by clicking "To accept". Automatically, the following statement will be shown:​

​


5) Click "Finish" the OAuth 2.0 Authorization Wizard, the permissions are granted:​

​
​​

Note: You can check the added application manually in your Microsoft account:
https://myaccount.microsoft.com/
https://portal.office.com/account/?ref=MeControl#apps

​
6) In Image Import Profile settings, click "Browse" button to select mailbox folder for image import source.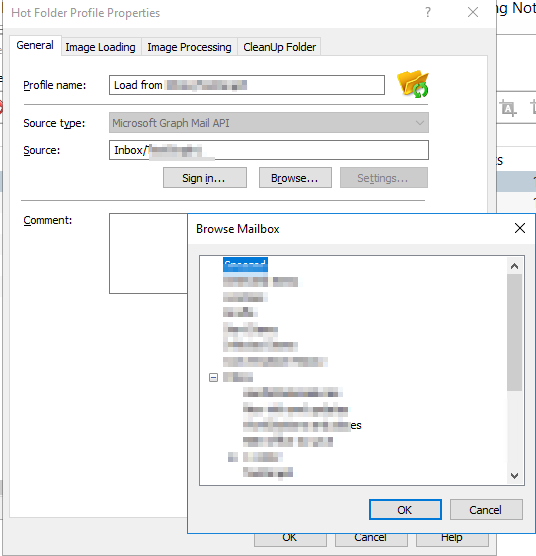 7) In i Image Import Profile settings, proceed to Cleanup settings and select options for successfully imported emails and erroneous emails per your choice: