Question
Does FlexiCapture12 contain any log after sending email via SMTP. If yes, where are these log files located?
Answer
By default, the system does not gather an SMTP log. But you can enable it through the registry key.
In your Windows system press "Start" choose "Run" and type "Regedit.msc".
Create a key
Computer\HKEY_LOCAL_MACHINE\SOFTWARE\ABBYY\FlexiCapture\12.0\FlexiBr
in this key, please, create a string Value
SmtpTrafficDumpEnabled
and set it to "True".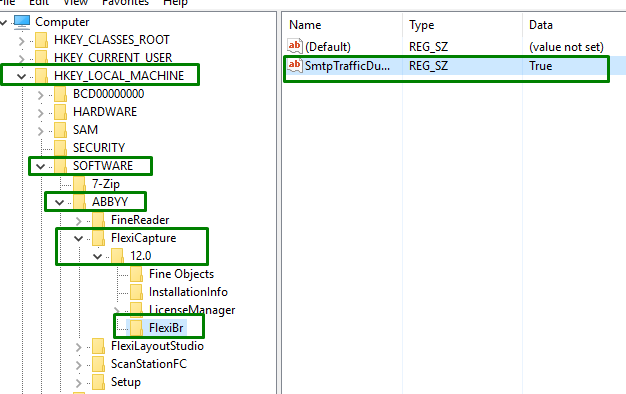 After that, you can find file smtp.log in the %TEMP% folder of the account that is running Processing Server. For example, the temp folder for the Network Service account is located here:
%Windir%\ServiceProfiles\NetworkService\AppData\Local\Temp
Also, you may need to restart an ABBYY Processing Server service.
This log will appear when there will be attempts to send the letters and will not appear during the "Test connection".