Question
How to recognize a document in the PDF Editor of FineReader PDF 15? 
Answer
There are 3 ways to recognize a document in the PDF Editor.
Background Recognition
Background recognition starts when you open a document in the program and the corresponding setting is enabled:

The following settings are enabled by default for background recognition in the PDF Editor (no UI, preprocessing options are always applying):
Deskew image
Correct image resolution
Correct page orientation
Recognition itself
You can recognize the document by clicking on the Recognize button on the top panel of the PDF Editor:

Recognition starts with the same preprocessing settings as the background recognition (this cannot be changed).
Before the recognition process starts, it is possible to adjust the appearance of the resulting document (the settings will not affect the recognition process):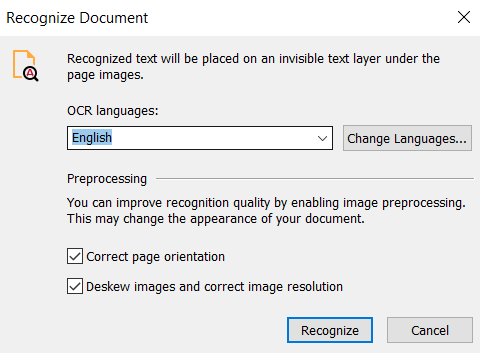 Saving as searchable PDF Document
Recognition starts by selecting File > Save As > Searchable PDF Document.
The result is identical to the one obtained when loading the document into the OCR Editor.
You can adjust the recognition results in the menu Tools > Options...