Symptoms
Process Skill publishing fails with the "Something went wrong" or "Workflow is invalid" errors.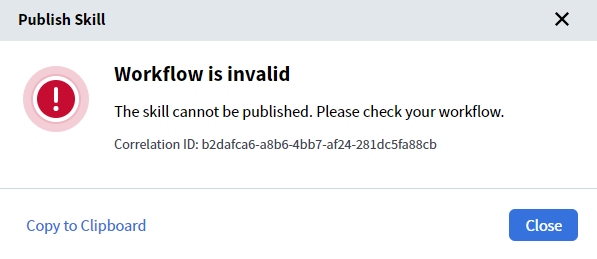 Cause
Process Skill Designer gives users a certain level of freedom for the creation and publishing of an incompletely configured skill or a skill with an invalid workflow.
Right now, there is no exact indication of how the Process Skill is incomplete or what is configured incorrectly. The current message "Something went wrong" is non-informative from the user's point of view.
Resolution
This behavior is planned to be changed Vantage v2.2.
To fix the issue with the Process Skill, we need to check how is it designed, in most cases the error would be produced by:
incorrect activities order in the Process Skill (e.g. "Extract" activity is used before "Classify" activity);
missing activities (e.g. missing "Classify" activity if more than one Document skill is used in the "Extract" activity);
no Classification skill is selected in the "Classify" activity (no Document skill is selected for the "Extract" activity);
classification results are not mapped to the corresponding Document skills inside the "Extract" activity.