Symptoms
When you are trying to highlight
the text in a document, the text is not highlighted but put into a frame as in the screenshot below: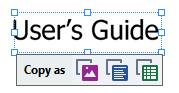 Cause
The background recognition is disabled in the settings of FineReader PDF 15.
Resolution
To resolve the issue, please enable the background recognition as follows:
Open your document in the PDF Editor;
Go to the Tools menu above > select Options...;
Activate the option Enable background recognition in the PDF Editor > OK;

Wait till the background recognition is completed;

Try to highlight the text with the Highlight tool .
If some text still cannot be highlighted, please recognize the document: click the File menu > select Recognize Document > Recognize Document...
Additional information