Question
Are there image pre-processing options (background whitening, despeckle, etc.) available in Vantage?
Answer
There is no image pre-processing options customization in Vantage at the current state (actual for Vantage 2.1.2). Still, the images undergo certain pre-processing automatically:
ABBYY Vantage automatically detects image orientation and corrects it to achieve the OCR results. Additionally, ABBYY Vantage detects document borders in photos and crops the image to improve processing accuracy.
In some cases, it may be useful to disable automatic crop and correction of image orientation if these operations have already been performed in a third-party system (e.g. when a document is uploaded via the mobile application and the user has already checked that the image has been rotated and cropped correctly).
The user can disable either of these preprocessing steps using the REST API.
Source: Vantage 2.1.2 Release Notes
Also, it is possible to set up some pre-processing options for OCR Skill in Vantage in the Skill properties > Image Enhancement tab:
Crop Image
Correct page orientation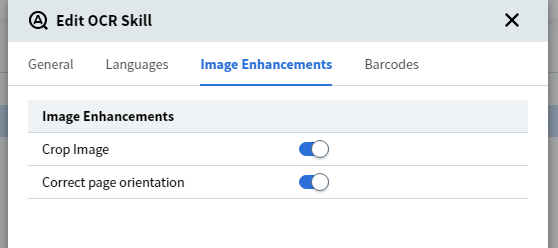 Additional Information