Question
How to set up the notifications (email, etc.) to be sent when documents/batch get to the Verification stage?
Answer
In the Project (Batch Type) Properties > Workflow select Advanced workflow create a custom script stage, and place it right before the Verification stage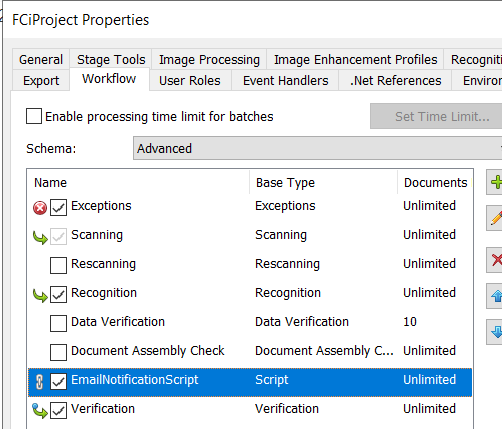 It is possible to add a script like the one below to send email notifications. This example sends the notification from the Gmail mailbox.
# C# .NET
using System;
using System.IO;
using System.Net;
using System.Net.Mail;
using System.Net.Mime;

MailMessage message = new MailMessage(); 
SmtpClient smtp = new SmtpClient(); 
message.From = new MailAddress("mygmailaddress@gmail.com"); 
message.To.Add(new MailAddress("sendtoemailaddress")); 
message.Subject = "Test"; 
message.IsBodyHtml = true; //to make message body as html 
message.Body = "Verification Stage"; 
smtp.Port = 587; 
smtp.Host = "smtp.gmail.com"; //for gmail host 
smtp.EnableSsl = true; 
smtp.UseDefaultCredentials = false; 
smtp.Credentials = new NetworkCredential("mygmailaddress@gmail.com", "mypassword"); 
smtp.DeliveryMethod = SmtpDeliveryMethod.Network; 
smtp.Send(message);