Symptoms
Error message while rejecting a task in Invoice project on Web Verification Station in FlexiCapture Cloud:
Status code: 400, status message: Bad request.
Error code: rejectTaskError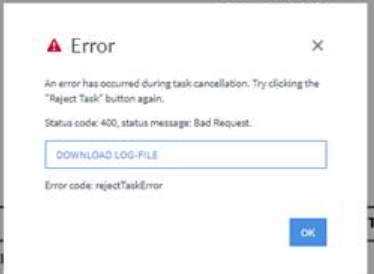 Cause
The issue was caused by document definition that was auto-updated after the recent upgrade of FlexiCapture Cloud to FlexiCapture 12 Release 4 Update 1. That happened for documents that were in processing (on some particular stages) during the upgrade.
Resolution
This issue could be resolved by updating the document to the latest version of document definition.
To do this, please:
Right click on the document and select Update document definition to the latest version option: