Question
Is it required to update and re-train Document Skill after the Vantage update?
Answer
The Vantage update may come with the new version of Core Technology.
Vantage supports skill versions to cope with different versions of the Core Technology. That means, after Vantage and/or the Core Technology has been updated, the existing Skills will remain working on the previous Core Technology version. However, the user will see the notification that the new Core Technology version is available in the Skill Catalog.
The user will have a choice of updating to the latest version of the Core Technology or staying on the previous version. In case the user will not update, the skill will continue working the same way as it was before the update.
We're committed to supporting every version of the Core Technology for 2 years. After 2 years (not less than 2 years) of supporting a Core Technology version, it may be deprecated. In this case, all Tenant Administrators will receive a notification mailing upfront informing them that the Core Technology version will be disabled on a certain date and they need to update the Skills' Core Technology version. For those who won't have this done until the announced date, the Skills will stop working. Should this happen, the users will still be able to update the Core Technology version of the affected Skills even after they were disabled.
If the user chooses to update the skill, there is an option to re-train the skill on the new version and publish it automatically, so the user doesn't need to do anything manually. Of course, due to the new technology, there is a possibility that the results may differ from the old version, so further training or changing some settings may be needed, but this can happen only on a case-by-case basis and can be found only during the testing of updated Skill.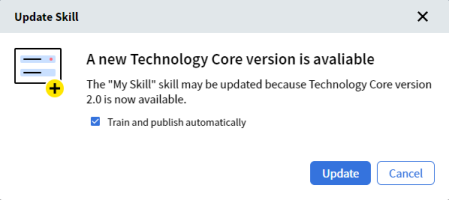 The user has the possibility to keep different versions of the skill on the same or different versions of the Core Technology and will be able to switch between them if required: