In your Purchase Order to FineReader Server 14, the Purchase Order should include a Serial Number. To apply the Serial Number to FineReader Server 14, here are the Step-by-Step Guide to activate your copy of FineReader Server 14 below here:
Step-by-Step Guide
During the FineReader Server 14 installation process, you will be prompt by the License Activation Wizard to activate your Serial Number:

Enter your Serial Number and then click on the Next button:
Select an Activation method: If you have internet access on your machine, it is recommended to choose "via the Internet (fast, recommend)". If you do not have internet access, please choose the next method that best fit your situation: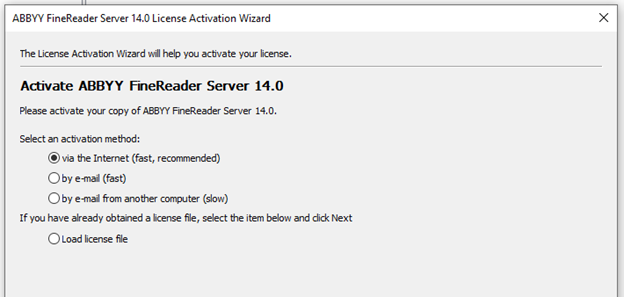 If the selected Activation Method you selected goes through successfully, you will receive the "Activation succeeded" message.

Congratulations! You have successfully activated your copy of FineReader Server 14!