FineReader for ScanSnap in combination with ScanSnap Manager utility of Fujitsu can capture text from a scanned document and save it as a Microsoft Word document, a Microsoft Excel workbook, a Microsoft PowerPoint presentation, or a searchable PDF document.
Below you may find the instructions on how to scan documents and convert them into searchable PDFs with FineReader for ScanSnap:
1. Start ScanSnap Manager > go to the system tray and right-click the ScanSnap button

;
2. Select Scan Button Settings;
3. In the top left corner of the ScanSnap window uncheck the option Use Quick Menu;
4. Create a profile or select an existing one;
5. Define the scanning settings, a destination to save documents;
6. Select ABBYY Scan to Searchable PDF in the Application drop-down list;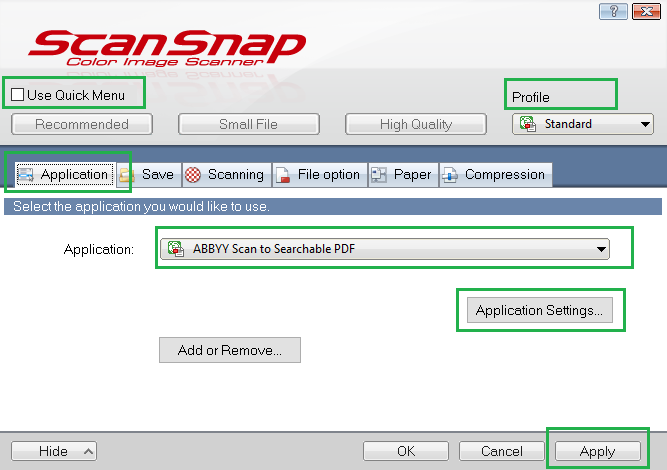 7. Click the Application Settings... button to define the settings for the conversion in FineReader for ScanSnap, such as Document language;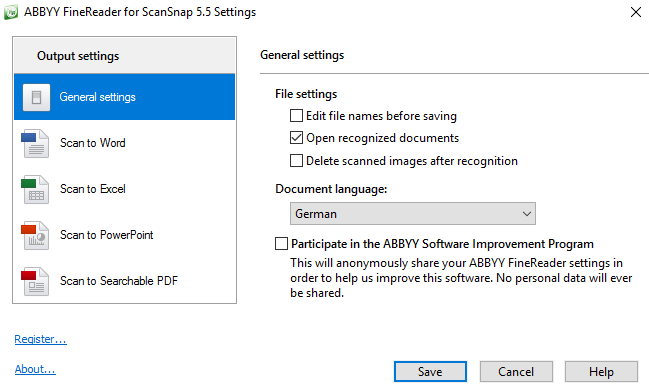 8. Click Apply and try scanning with the profile by pressing the Scan button on the scanner.
A document will be scanned and converted to a Searchable PDF with FineReader for ScanSnap.

Related articles
Using ABBYY FineReader for ScanSnap 5.5 with ScanSnap Home on Windows

Using ABBYY FineReader for ScanSnap 5.5 with ScanSnap Manager on Mac