Question
In some cases, we might have a table that we are not able to capture correctly using a traditional method - Table element. In such cases, we usually use Repeating Group element.
But what if we come across a multi-page document that has a table header on each page?

Answer
We can use two following methods to capture such a table using the Repeating Groups.
Using Absolute search area constraints
To limit the search area to the table area so that it doesn't capture unnecessary text outside of the table, we can use Absolute search area constraints in the Search Constraints tab.
You can measure the area with the Measure Rectangle tool.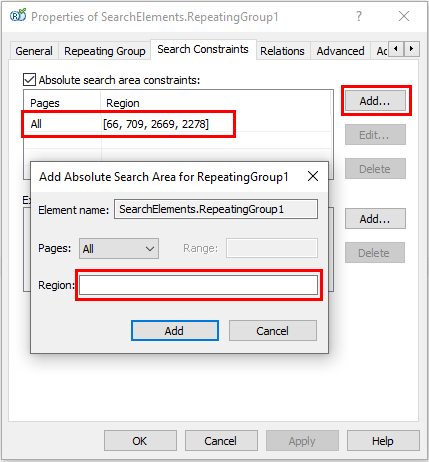 Using nested Repeating groups
Sometimes it might be not suitable to use the Absolute search area constraints method because other tables using this layout might have different positions and lengths of elements, thus making it not convenient to use the method, because you will have to re-measure the area every single time.
In such a case, you can use the nested Repeating group method.
Create the first, "main" Repeating group that will include the Table header and footer.

Next, create the nested RG in the first RG. The relations are as follows:

These are the main steps, other elements in the RG don't need any specific settings and should be designed according to the needed results.
Additional information