Symptoms
The following error occurs when opening a FlexiCapture station (Verification Station, Project Setup Station, FlexiLayout Studio, etc.). The station fails to open.
Failed to run license <license number>. There are no free licenses
Cause
The number of stations and FlexiLayout Studios that can be used simultaneously is limited by FlexiCapture licensing parameters.
This error occurs when the limit set by the license parameters is exceeded.
Resolution
You can check the license parameters in License Manager.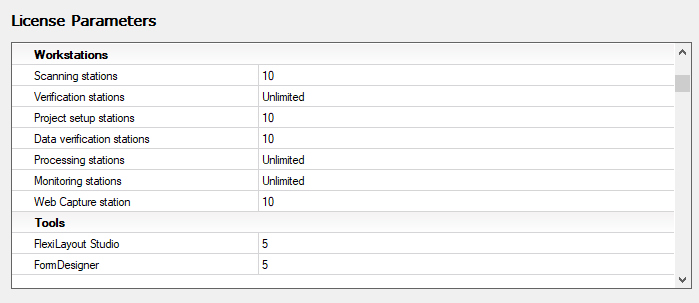 As an example, according to the screenshot above, the number of project setting stations that can be launched simultaneously is 10.
You can see which computers and users are using licenses in License Manager → Services → License Usage Statistics.

Please contact your ABBYY business representative to change the license parameters.
If required, you can also delete the not needed open sessions from Administration and Monitoring Station > Processing Monitor > Sessions page, but make sure that all changes were saved before deleting the session.