Symptoms
In the PDF Editor of FineReader PDF 15 there is no Split Document button under the File menu.
Cause
The Split Document tool has been implemented in Release 6 build 15.0.114.4641 of FineReader PDF 15. If an earlier version of the program is installed, the button will be unavailable.
Resolution
Please update your copy of the program as described in the article: FineReader PDF 15 update.
After the program has been updated, please start FineReader PDF 15 > open any document in the PDF Editor > click the File menu > check if the Split Document... button is available.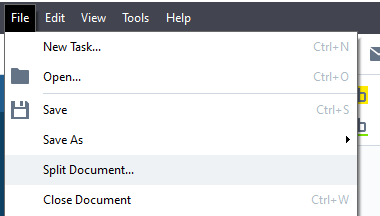 Additional information
Video tutorial How to Split a PDF