Question
Is there any way to lock the training batches automatically after a particular number of samples are trained for a vendor?
The training happens from Verification Stations. Our requirement is to lock the training once 5 samples are trained for each vendor.
Answer
Check under which user ABBYY FlexiCapture 12 Processing Station service is running in Control Panel > Administrative Tools > Services. By default, it is NETWORK SERVICE:

If it is NETWORK SERVICE, please create the following registry key MaxTrainingDocuments under
HKEY_USERS\S-1-5-20\SOFTWARE\ABBYY\FlexiCapture\12.0\Controller\Training

Note: If it is another user, then add the key for that particular user.
Steps to add a registry key:
Launch Regedit.
Create a key named Controller in HKEY_USERS\S-1-5-20\SOFTWARE\ABBYY\FlexiCapture\12.0
In the Controller key, create a new key named Training.
In the Training key, create a string variable named MaxTrainingDocuments.
For the value of the MaxTrainingDocuments variable, specify the number of samples you need to limit your training batches for.
Restart the machine.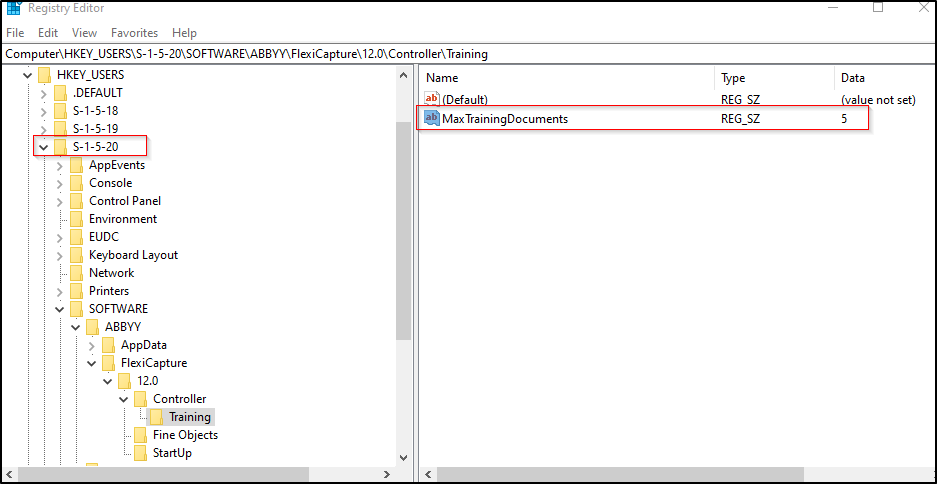 Note: If you have several processing stations please repeat those steps for each of them.