Symptoms
We've installed FlexiCapture 12.0.3.2634 and the plugin on end-user machines:


But then when trying to access the specific pages in the web console we get the following error for both Web Capture and Web Scanning Stations: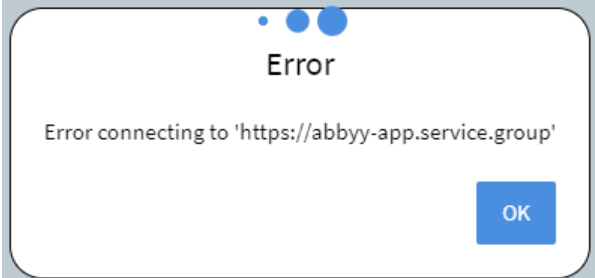 Cause
This situation may be caused by using VPN and/or Proxy
Resolution
if you use a Web-scanning station in your environment and need to access the server through Proxy,
the options are either update to at least FlexiCapture 12 Release 3 Update 4 (12.0.3.4164) or as mentioned in the article exclude the necessary computers/users and FlexiCapture server addresses from the proxy.

To set up Login page on a Web Capture/Web Scanning stations in a case if you use Proxy you could use a key:
<add key="LoginStationUrl" value="../Login" />
../Login

Specifies the path to be used for logging in to the station.

Note: You can use this key to customize the URL or specify the address of your proxy server.
More information about that you can find in this article.